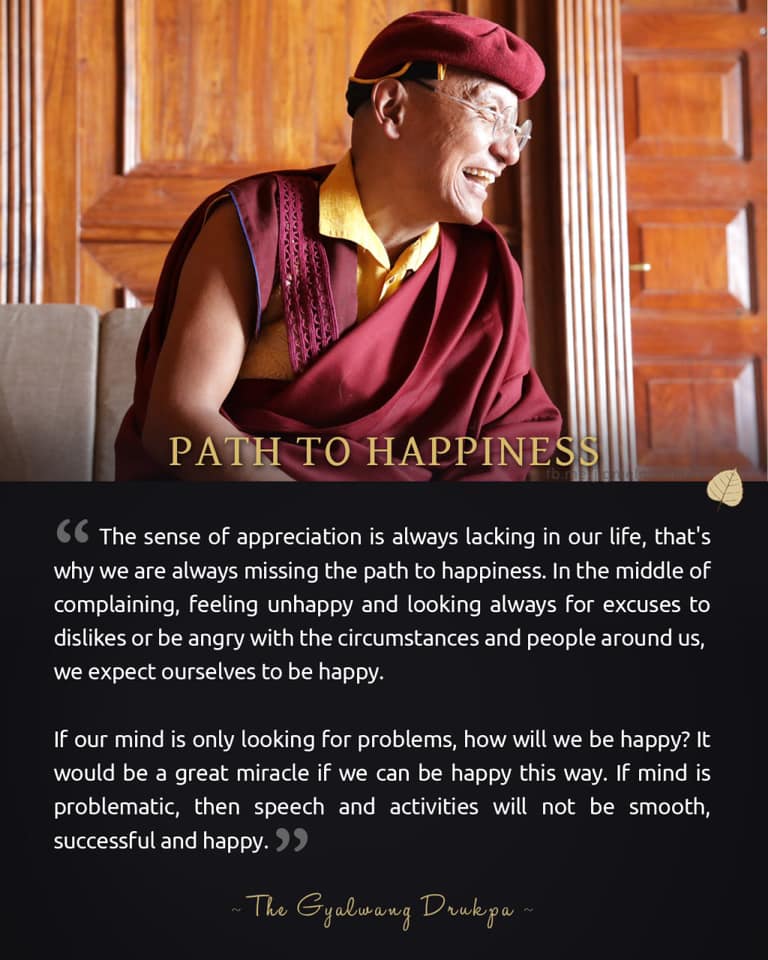 Many of you who have known me over the years have heard me talk about being tired about mundane activities.
It is said, "Mundane work is endless, by nature it ends the moment you stop working". Due to habitual tendencies acquired over time immemorial, there's no concern about the ability to engage in mundane affairs. However, like the saying, "Desire is like saline water, the more you drink the more your thirst grows", the craving of worldly affairs remains insatiable and endless. It seems that running blindly after them is like chasing a rainbow, or like moths being attracted to death by flame. So for more than five years, I have been deliberately cutting down on my travels and social engagements (like meeting ecclesiastical and lay personnel, photo ops, social conversations, etc.) to concentrate more on inner spiritual activities. With retirement in my mind, I had intentionally started slowing down my mundane activities and preparing for social distancing! But my preparation for social distancing was not to pre-empt COVID-19.
Looking at the world today, with this pandemic virus surfacing as our invisible enemy, this is a ripening of our collective karma —accumulated over the years through the mindless killing of animals and the destruction of our environment for commercial purposes, threatening our very existence. On top of that, it's scary that age and health, not only mine but that of all of us, are catching up quietly and quickly. We have no control over our ever-changing physical conditions in things like hair, nails, teeth, eye-lids, glow of skin, shape of body, wrinkles on the face, firmness of thighs, genitality, potency, or even the loss of ability to sit up straight, etc. I realise that the suffering of old age is approaching and that death, the fear of which is such that we don't ever dare to say the word, is even closer than you think. Just as Mila Repa said, "Corpse, the sight of which is so scary, is now close to the body", and it is saddening to see that your corpse is by your side.
These days I see many of my young friends departing this world prematurely and unexpectedly. Everywhere we look is a reminder of Lord Buddha's teaching on impermanence and the suffering of samsara. All these have strengthened my inner resolve to gradually retire from mundane activities motivated by the eight worldly Dharmas, and focus more on inner spiritual activities. Even if I am not able to practice as much inner spiritual activities as I wish to, I would rather relax and contemplate while I have the freedom to do so.
I will now selectively travel to a few places in this world only if necessary, and take more time to stay in one place as long as I can to practice spirituality. Well, it seems the current global situation is in conformity with my decision… haha.
See you all whenever karma permits!
The Gyalwang Drukpa
Viele von Euch, die mich im Laufe der Jahre kennen gelernt haben, haben gehört, wie ich davon sprach, dass ich von alltäglichen Aktivitäten müde sei.
Man sagt: "Die alltägliche Arbeit ist endlos, sie endet von Natur aus in dem Moment, in dem man aufhört zu arbeiten". Aufgrund von Gewohnheitstendenzen, die sich im Laufe der Zeit entwickelt haben, gibt es keine Bedenken hinsichtlich der Fähigkeit, sich mit banalen Angelegenheiten zu beschäftigen. Doch wie das Sprichwort "Begierde ist wie Salzwasser, je mehr man trinkt, desto mehr wächst der Durst", so bleibt die Begierde nach weltlichen Angelegenheiten unersättlich und endlos. Ihnen blind hinterherzulaufen scheint wie die Jagd auf einen Regenbogen oder wie Motten, die vom Tod durch Flammen angezogen werden. Deshalb habe ich seit mehr als fünf Jahren meine Reisen und sozialen Engagements (wie Begegnungen mit kirchlichem und Laienpersonal, Fototermine, soziale Gespräche usw.) bewusst reduziert, um mich mehr auf innere spirituelle Aktivitäten zu konzentrieren. Mit dem Rückzug in den Ruhestand hatte ich absichtlich begonnen, meine weltlichen Aktivitäten zu verlangsamen und mich auf soziale Distanzierung vorzubereiten! Aber meine Vorbereitung auf soziale Distanzierung sollte COVID-19 nicht vorgreifen.
Wenn man sich die Welt von heute anschaut, in der dieser Pandemievirus als unser unsichtbarer Feind auftaucht, dann ist dies ein Reifeprozess unseres kollektiven Karmas, das sich im Laufe der Jahre durch das sinnlose Töten von Tieren und die Zerstörung unserer Umwelt zu kommerziellen Zwecken angesammelt hat und das unsere Existenz bedroht. Darüber hinaus ist es beängstigend, dass Alter und Gesundheit, nicht nur meine, sondern die von uns allen, leise und schnell aufholen. Wir haben keine Kontrolle über unsere sich ständig verändernden körperlichen Zustände in Dingen wie Haare, Nägel, Zähne, Augenlider, Schimmern der Haut, Körperform, Falten im Gesicht, Festigkeit der Oberschenkel, Genitalität, Potenz oder sogar den Verlust der Fähigkeit, gerade zu sitzen, usw. Mir ist klar, dass das Leiden des Alters näher rückt und dass der Tod, vor dem wir uns aus Angst nicht trauen, das Wort auszusprechen, noch näher ist, als man denkt. Genau wie Mila Repa sagte: "Der Leichnam, dessen Anblick so erschreckend ist, ist jetzt nahe am Körper", und es ist traurig zu sehen, dass der Leichnam an der Seite ist.
In diesen Tagen sehe ich viele meiner jungen Freunde, die diese Welt vorzeitig und unerwartet verlassen. Überall, wohin wir blicken, erinnern wir uns an Lord Buddhas Lehre über Vergänglichkeit und das Leiden von Samsara. All dies hat meine innere Entschlossenheit gestärkt, mich allmählich von den weltlichen Aktivitäten zurückzuziehen, die durch die acht weltlichen Dharmas motiviert sind, und mich mehr auf innere spirituelle Aktivitäten zu konzentrieren. Auch wenn ich nicht in der Lage bin, so viele innere spirituelle Aktivitäten zu praktizieren, wie ich möchte, würde ich mich lieber entspannen und kontemplieren, solange ich die Freiheit dazu habe.
Ich werde jetzt nur noch bei Bedarf selektiv an einige wenige Orte dieser Welt reisen und mir mehr Zeit nehmen, um so lange wie möglich an einem Ort zu bleiben und Spiritualität zu praktizieren. Nun, es scheint, dass die gegenwärtige globale Situation im Einklang mit meiner Entscheidung steht… haha.
Wir sehen uns alle, wann immer es das Karma erlaubt!
Der Gyalwang Drukpa
Übersetzt mit www.DeepL.com
.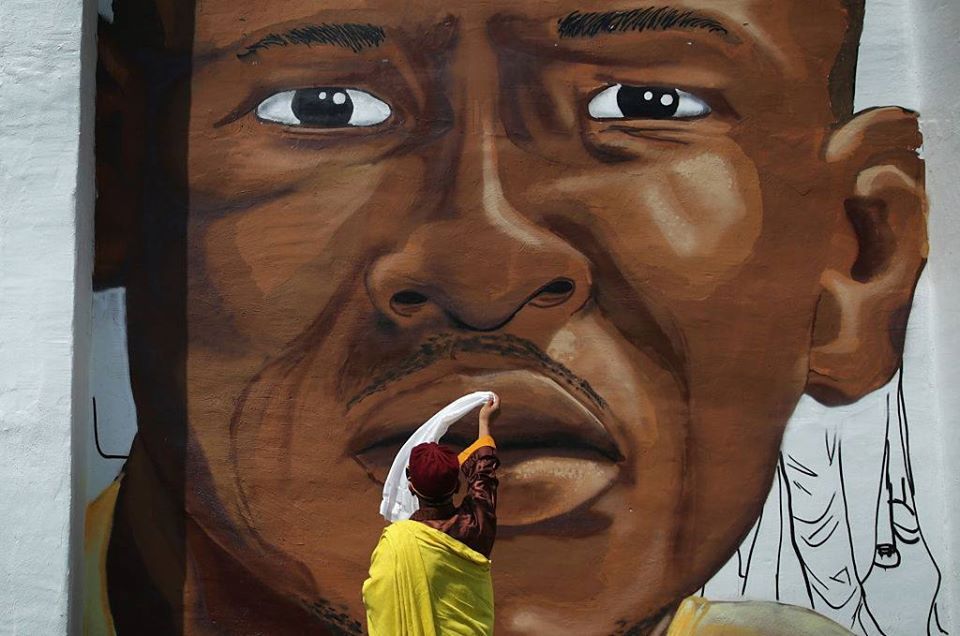 Our heart goes out to all victims of injustice.
"Injustice anywhere is a threat to justice everywhere."
Kung Fu Nuns on Facebook: 1. Juni 2020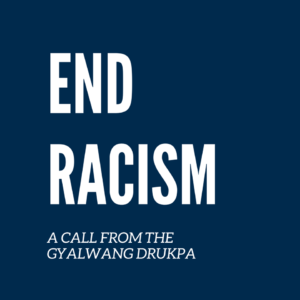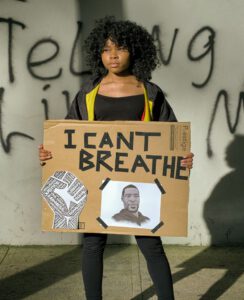 The GYALWANG DRUKPA CALLS FOR AN END TO RACISM
I am very glad for the public outrage against police brutality and prejudice. Driving these protests are the undeserved killing of black people (and even sometimes white people), inequality, injustice, false news reporting, unemployment, the poor handling of the COVID crisis –- this is a moment in history like the 60's anti-war protests in America. People cannot take this way of living anymore. Who could tolerate abuse like this?
As a Buddhist leader in the Himalayas, I feel we must actively and vocally support this movement. We cannot sit back and watch from afar, hiding behind words like "equanimity" as an excuse to say nothing. True progress and realization can only exist when courage exists, whether it is to confront worldly injustice or our inner defilements. So we must take a stand and show others – YES, black lives matter. And all sentient beings matter. One by one, we will support each group fighting for their lives to matter.
Now is the time for Black Lives Matter, lives that have suffered through the historic trauma of slavery and endless systemic racism. We stand and call out with our friends against injustice and police brutality. And we challenge everyone across the Himalayas and the world to stand against ethnic discrimination, intimidation, and violence in our own communities. America is not alone in this. We all face these problems. The outrage in America is also the outrage we feel in our hearts, and we celebrate the peaceful but forceful and now unstoppable uprising of the human spirit.
May brutality be checked, may we find the skillful means for change, and may true peace prevail. ~ The Gyalwang Drukpa
We all came in on different ships, but we're all in the same boat now.
.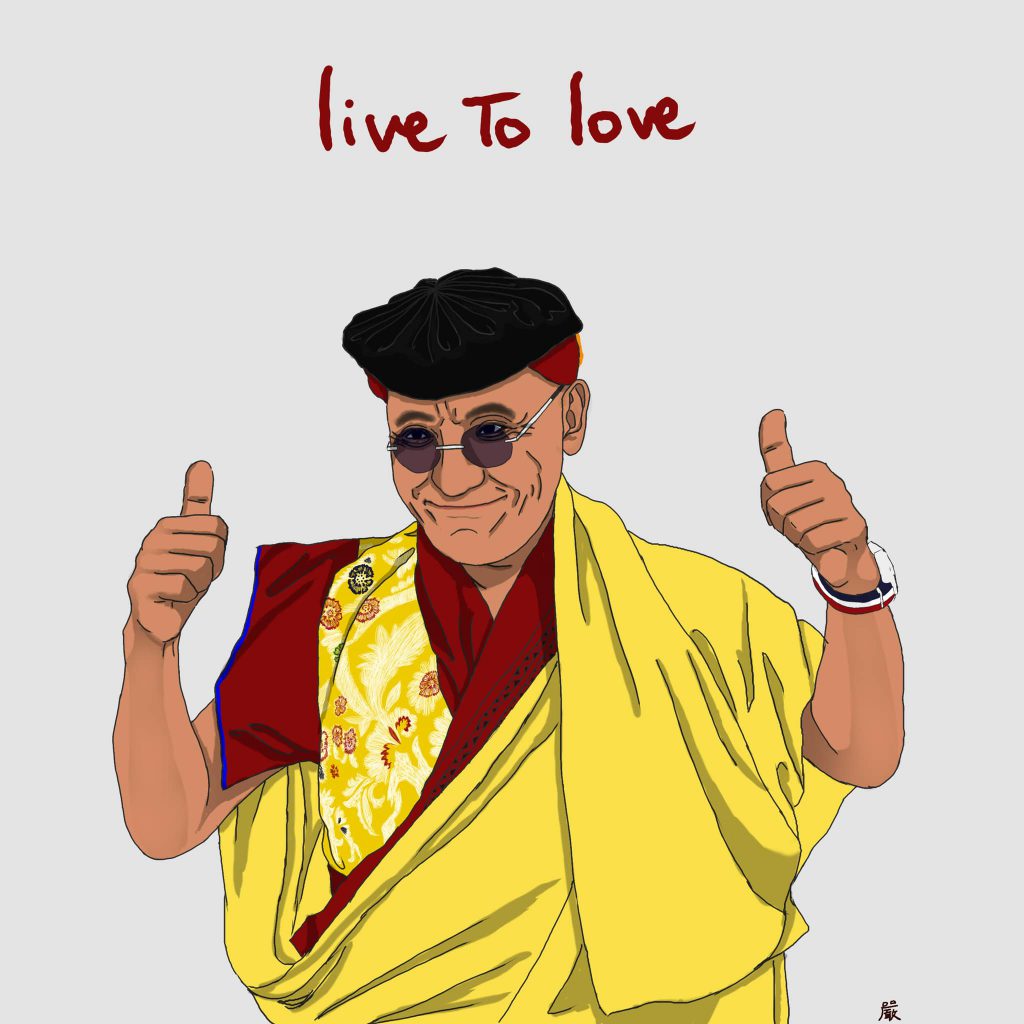 OM / PISHA TSE / PANI / SHAWARI / SARVA / ZORA / TASHA MUNAYI / SOHA
.
Parnashavari or Loma Gyeunma is one of the 21 Taras, and she is invoked

against infectious diseases.
She is dressed in green leaves and as a Shavari is a member of one of India's ancient indigenous peoples.
………….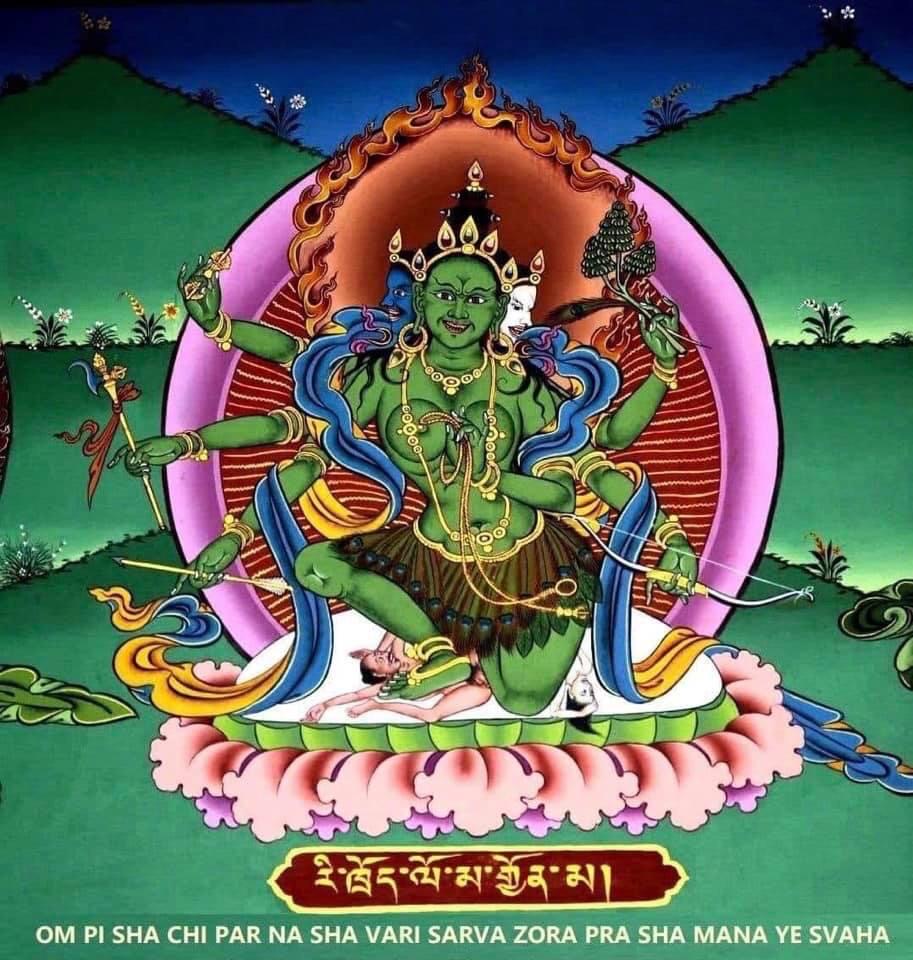 .
In order to give us his boundless support, His Holiness who has confined himself                           at Druk Amitabha, has sent this messages for all to read:
« What is taking place today is the result of our collective karma and its source is to be found in the lack of respect we have for our planet and all sentient beings, including animals.
This is a fact, and one should have no fear, but on the contrary trust in the Dharma, practice, pray to the Three Jewels, perform the practices of Tara, Guru Rinpoche, Riwo Sang Tcheu and the prayer by Thangtong Gyalpo, bearing in mind that we are doing so for the sake of all beings.»
"Reckless human behavior has resulted in the destruction of nature and our poor animals. For thousands of years, nature has been begging us for kindness and reciprocity. Now that we have been forced to step down off our usual roles that pollute and destroy other beings, the world is suddenly able to begin healing again. Although we are all suffering immensely from this coronavirus, look how much we can learn about our impact on the world. This is an encouragement for all of us to contemplate and give thanks to nature, to animals, and to the humbling lessons we can learn from this health crisis."
"
I become speechless when I think of this coronarvirus. True teachings of Lord Buddha come at a practical level. Now, it's time to practise renunciation and also it's time to generate the understanding of impermanence, no matter who you are and what sort of lifestyle you may have. No choice! We always think about ourselves as being superior over everything, especially all the poor animals. It's no longer reality anymore. Our negative actions that harm animals have created
the conditions for illness and harm to our own bodies. Now, it's time to contemplate on the teachings of nature and not just the Buddha. It's time for us to respect the law of nature and the right of all beings! It's never too late unless we are suicidal by nature.

"
"We always go around the world to introduce people to the interdependent nature of our existence and how we should respect co-existence with nature, by giving oral teachings and by setting examples of the humanitarian activities of Live to Love. But very few have bothered to listen. Now the COVID-19 pandemic has put the fear of death in all of us – from heads of states to the poor homeless people on the streets. Death is a natural process of life, but hardly anyone feared it as much as they do now during the panic caused by COVID-19.
Following the cancellation of international flights and the closure of factories in China, our pollution levels have dropped. Dolphins are returning to the coasts of Italy after the closure of cruise ships, swans are appearing in the canals that were once populated by gondolas. In Singapore, otters are roaming freely. These are just a few examples that show us how human greed has disrupted the natural balance of coexistence between nature and humans, and how nature is now reclaiming its space.
The lesson we can learn from the COVID-19 pandemic is to respect the law of nature and the philosophy of interdependence. It gives us – people of all political hues, creeds and colour – an opportunity to come together and join hands. Not only to fight this pandemic, but to also restore the natural order for a better, safer, and healthier future for the coming generations."
16.04.2020
While we trace the origins of Covid-19 to the animal markets, we must also remember that the virus itself was born from human acts of destruction. Devastation of natural resources, diminishing wild lands, poaching, and smuggling have all created the conditions for the virus to be born, take hold in animals, and ultimately be passed on to humans. To prevent future pandemics, we must contemplate how to preserve and cherish our earth and a whole.
28.04.2020
This experience that we are going through with the pandemic is not just one problem that will be over soon. It is just the beginning, and we must make wiser decisions. While all these regions are experiencing the pandemic differently for many reasons, there is also an element of 'collective karma.' When we harm animals and nature for example, it creates conditions for our own harm and sickness. Now we are in a situation where our karma is forcing us to give the world a little rest after all these years of abuse. This is like a small test for all of us, whether we are rich or poor, powerful or simple, educated or not, telling us not to abuse or bully other beings.
We need to understand that we are all part of one family with the planet and its beings. Abusive and arrogant behavior, like factory farming and torture of animals, has led to so many fatal viruses and diseases for humans. But if we choose to behave well and kindly, this leads to a happier life, a healthier environment, and conditions for speedier recoveries for things like this virus. This is the kind of karma we should strive for throughout our lives.
After this coronavirus pandemic ends, we don't want to go back to the same style of living where we bully, harm, and excessively eat animals while lying to ourselves. This pandemic is only a beginning for us, and a very good opportunity for us to change our harmful behaviours for a better future.
29.04.2020
This morning some of my friends asked me the same question again, "How is everything with you all in Nepal?" This is because they are quite concerned and very worried about me and my people here in Kathmandu. Perhaps they can't believe that the situation in Nepal in general, and Kathmandu in particular, isn't so bad during this period of global COVID-19 pandemic.
This particular friend said that she is very surprised and very happy that Nepal government could control and contain the pandemic crisis so well. I told her that it may be partially due to the steps taken by the government, but partially it is just the result of collective Karma. I really believe so. Otherwise, how can one explain why Kathmandu is in a better position? Why Italy is so bad and London as well? Now New York is like a hell. Why Wuhan needs to suffer that much? All these questions can never be answered truthfully. There may be answers based on on-going scientific studies, some may be political answers, some are racists and some based on religions. I only believe in Karma. This is happening because nature needs a little bit of rest to heal. Karmic reactions can provide some succour to the world. Our cyclic existence is the result of Karma.
Karma to me is the outcome of people's behaviour, people's mentality and people's lifestyle. No matter what sort of luxurious lifestyle you may have, no matter how rich you are or your country is, no matter how successful you or your country is – regardless of all these conditions. If you deserve to be sick, you will be infected. This is quite visible from how this coronavirus works. It is as though this pandemic has a mind of its own – where to go, how to go, and whom to attack. It seems that the virus is attacking those countries whose people are educated, arrogant and full of themselves, caring less for nature and social values. Such negative behaviours and lifestyles cause the collective karma resulting in all the unnecessary problems, like the current pandemic, the society as a whole has to face it.
While it is important that at the individual level, we follow rules such as social distancing, washing hands, and wearing face masks but more importantly we need to respect the law of karma, that is, follow harmless behaviours and engage in helpful day-to-day activities. This will definitely help us to prevent recurrence of the pandemic.
This message should neither be seen as a political nor religious message. It's just my observation of the ground reality.
His Holiness highly recommends to strictly abide by the confinement instructions implemented by our respective governments.
We must be very disciplined.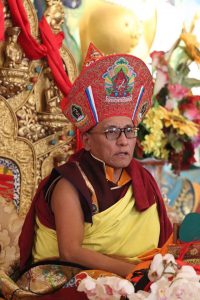 .
05.02.2019:
A message from the Gyalwang Drukpa:
It has been quite a few years since I last celebrated the Lunar New Year with my students, friends, monks and lay people here in Dali Gonpa (officially known as Druk Sangling Choeling Monastery). I feel very blessed to be able to conduct the seven-day MahakalaDrupchod together with the second Drukpa Thuksey Rinpoche for dispelling obstacles to benefit the world.
It's truly amazing to have all the yoginis (female practitioners) and yogis (male practitioners) from different retreat places of the Himalayan regions of Ladakh, Kinnaur, Lahaul Spiti, Sikkim, Nepal, Bhutan, and other parts of the world joining this Drupchod. The rarity of this kind of gathering has to be appreciated from the depth of our heart, and the virtues accumulated are dedicated to the benefit of all sentient beings and the world at large.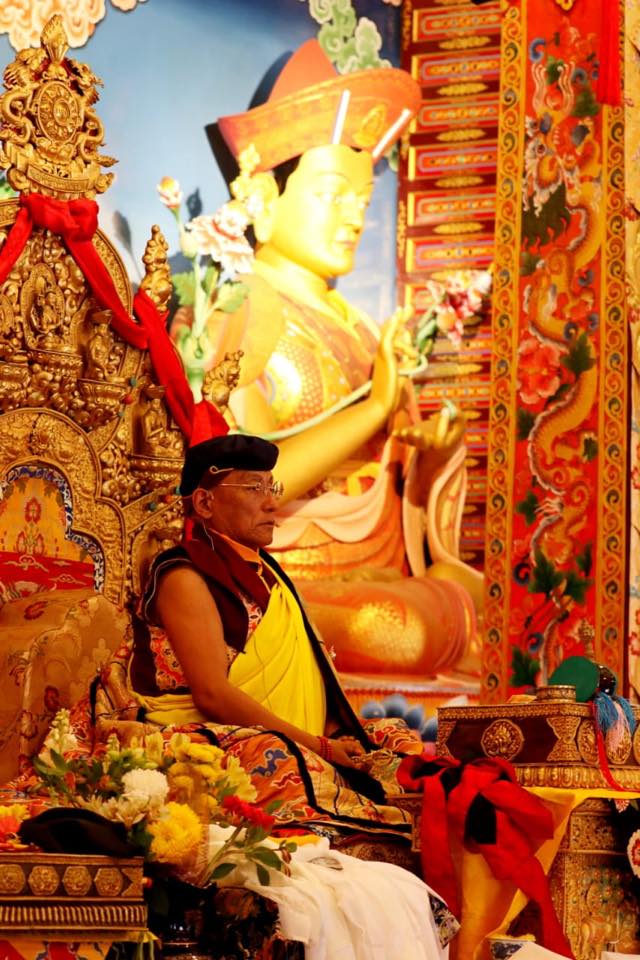 .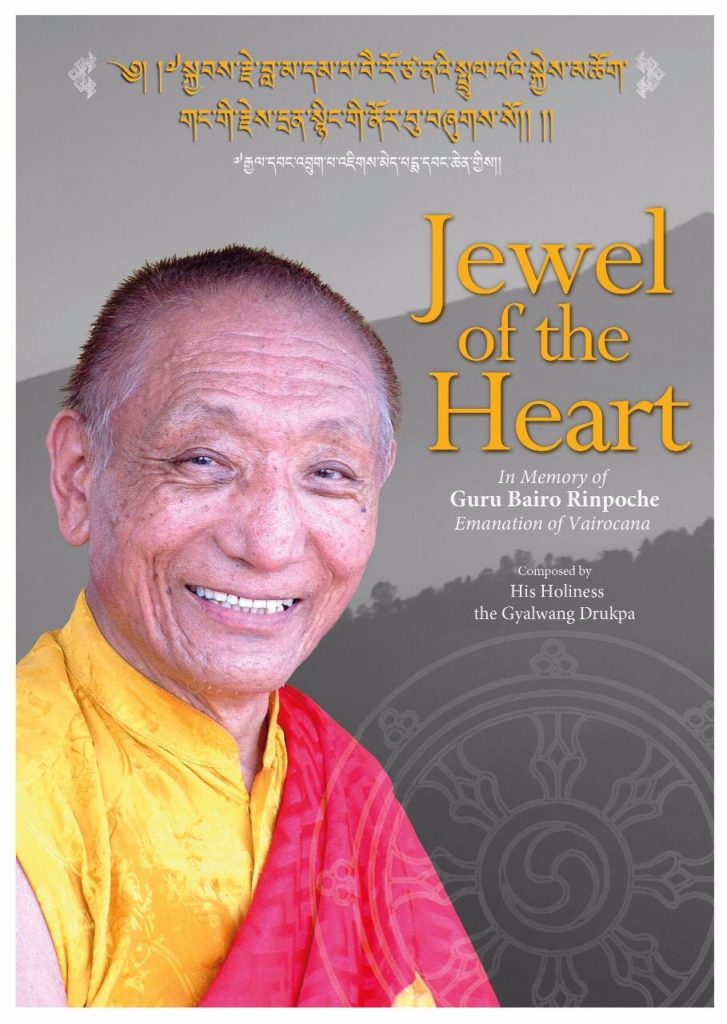 "Jewel of the Heart" will be available by end of October 2017.
Order can be placed at: https://goo.gl/oGZuWn
.
.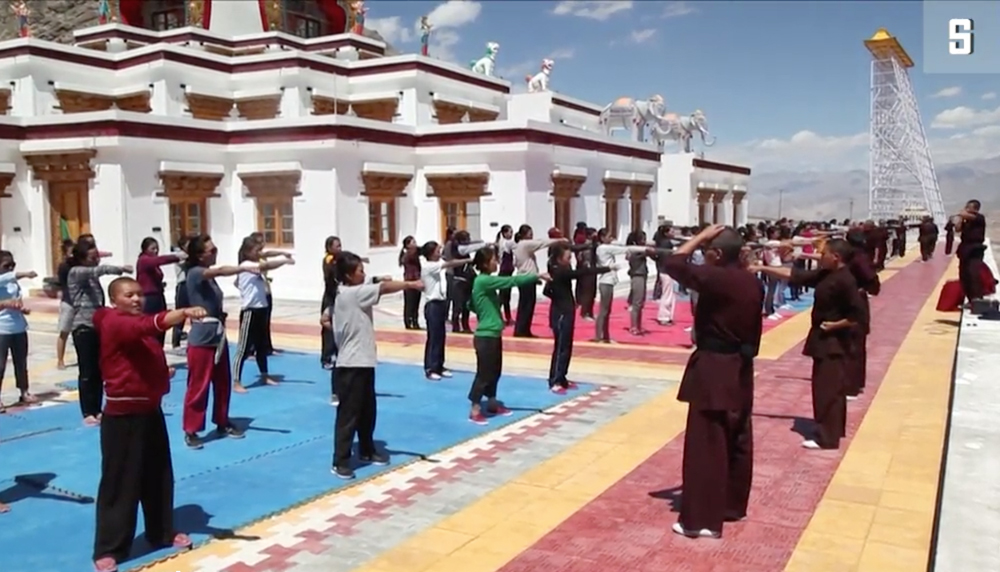 Heute erschien ein Video über die Kung Fu Nonnen Seiner Heiligkeit Gyalwang Drukpa auf
Es dokumentiert einen Workshop der Nonnen für Frauen am Naropa Pothrang in Hemis.
Einfach Spiegel Online anklicken.
Zur Unterstützung der Nonnen auf  Humanitäres – Sponsorenschaft für eine Nonne klicken.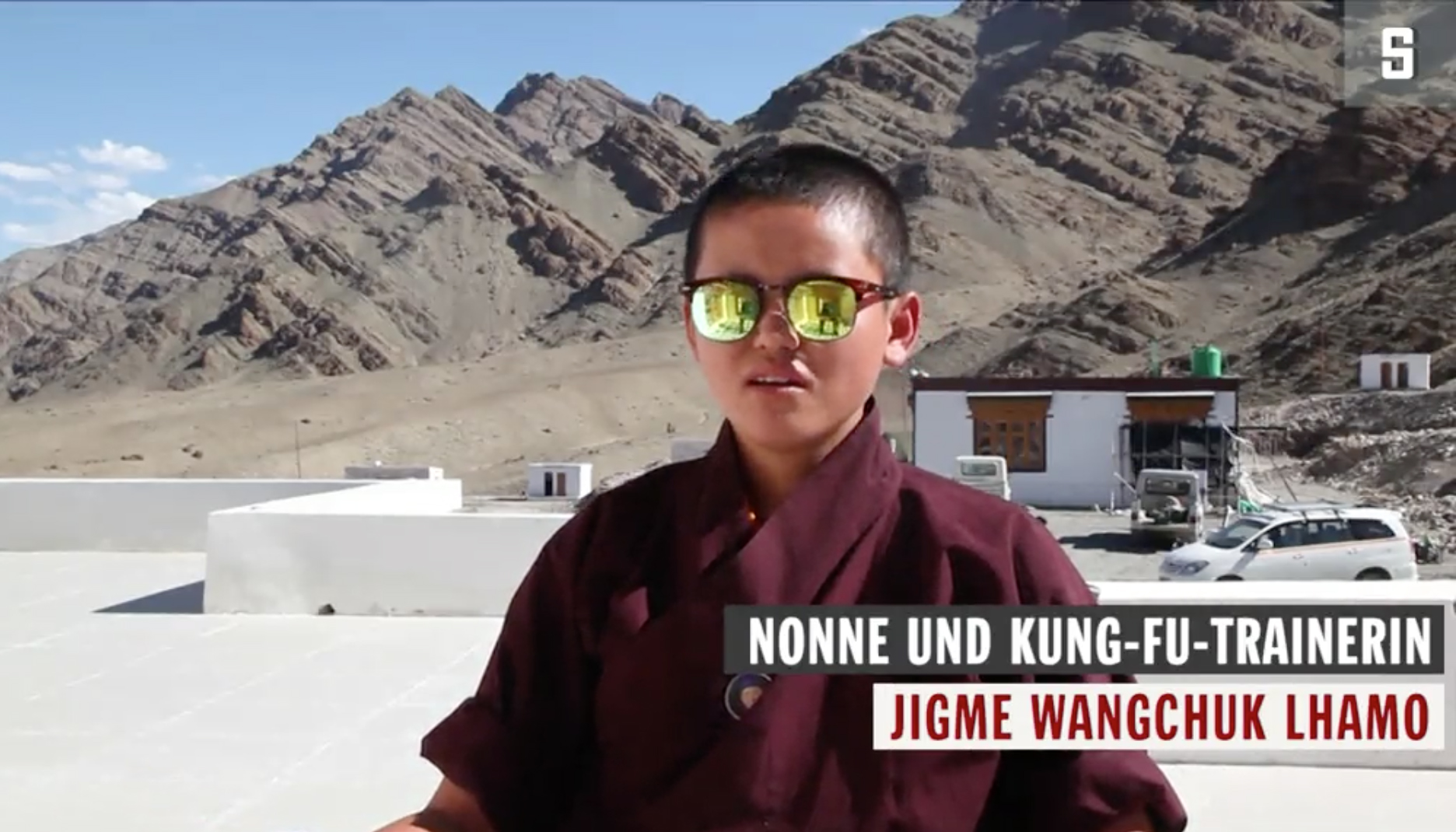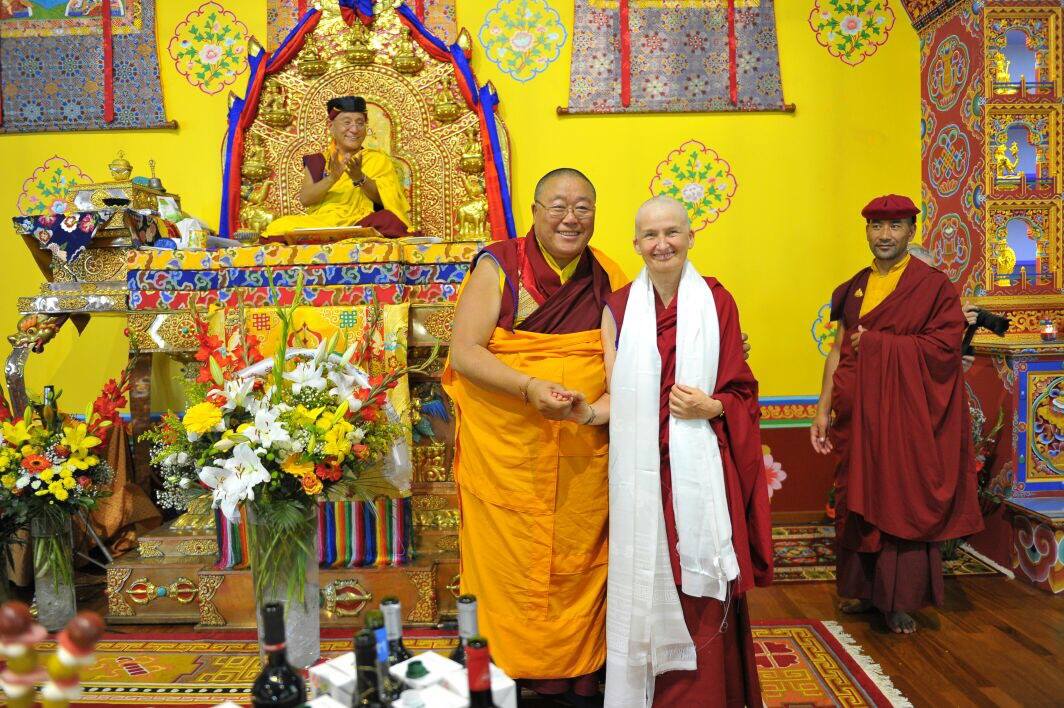 "My very old friend Barbara", wie sich Seine Heiligkeit ausdrückte, wurde von S.H. im Laufe des Yangti-retreats in Plouray zur Nonne ordiniert. Er hat ihr den Namen Jigme Mönlam Zangmo verliehen. Diese freudige Überraschung hat uns alle sehr bewegt.
Liebe Mönlam Zangmo wir wünschen dir von Herzen alles Gute auf diesem neuen Abschnitt deines Dharmaweges. Du siehst sehr glücklich und strahlend aus.
Deine Vajra-geschwister